Archive for April, 2009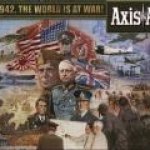 Members of Axis & Allies recently uncovered that Avalon Hill will be releasing a new version of Axis & Allies in August 2009. The details are few and are limited to an article at Previews. The name of the new game will be Axis & Allies 1942 Edition and will retail for $35. The image to the right was also found on the previews article and look remarkably similar to the Axis & Allies Anniversary Edition box cover.
I recently created a Twitter account for all things Axis & Allies. I'll tweet all articles posted here, any articles that I can find on other sites, interesting posts in the forums, rumors, and announcements. If you have a twitter account, the username that I will be using is "axis_and_allies." Follow Axis and Allies.org on Twitter.