RE: Allied Global Strategy.
I've ironed some of the wrinkles out of my strategy with some of the feedback and a few more games. Any feedback appreciated.
Russia.
T1
Pull back to Industry centres and the area around Smolensk, Bryansk, Novgorod.
Build combos of Artillery/Infantry sprinkled with a few tanks and mech.
T1 Declare War on Japan but retreat forces back leaving 1 guy on the border (hoping to trigger Mongolian Rule) and letting the Japanese player a bit confused about whats going on.
T2-3
Units from Novgorod + Tank + Mech Builds + Aircraft drive to Norway. This are is worth 5 IPC + 6 Bonus and cancels the German bonus for Sweden. Don't worry about losing Leningrad. This can actually work in your favour later on when you are counterattacking and the Germans end up splitting their forces. At this stage we are also setting up an outpost in Ukraine. So we are deliberately leaving the North empty to entice the German legions this way. Eventually the survivors from the attack on Norway will come back (with British friends) and retake Novgorod.
The same goes for Korea/Manchuria in the East. Avoid battles that can be dominated by axis air power. If the Japanese are heading North we begin a game of cat and mouse trying to force them to commit more forces than they want to and staying out of range of their Bombers if possible. Eventually the Japs will catch us if they are paying attention so we want to cause as much problems for them while our garrison remains intact. This will give a chance for the Chinese and Brits to build up in the South.
Other Optional goals include:
Sinking the German ships with your own ships in the Baltic Sea and your planes.
Moving the Northern sub to escort British shipping or even convoy raiding at Normandy.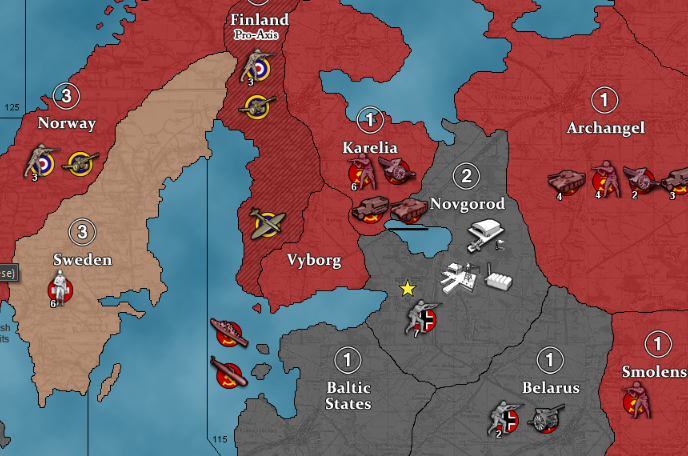 T4-6
Eventually the Germans will bring their main body of troops East and force us to retreat. Consider sniping attacks if you can come out equal or slightly ahead.
This is why artillery and tanks are important. If all you have is infantry you cant do much. At some point things might start to look grim with Germans Italians and Japanese advancing from all directions. Just hang on! Help is on the way. Consider flying in some Allied fighters if extra defence is needed in Moscow.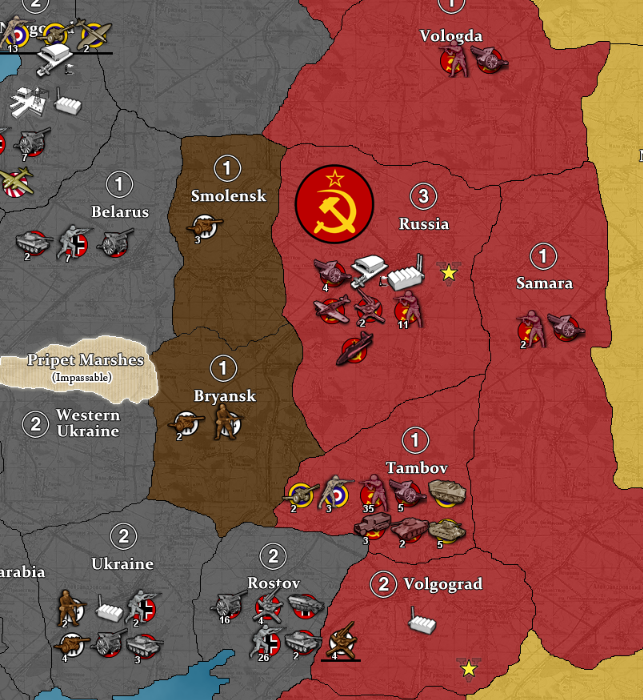 T7-10
Your Troops from Norway should be ready to take back Leningrad by now. The British should be advancing from the North and South and the Americans coming from Siberia. This is where the fun begins. Use the turn sequence to your advantage. So the Russians attack somewhere and then either the Americans or British move infantry or planes in to reinforce the position.
Typical Builds
Turn 1-3: 30+ IPC = 4 Inf, 2 Art, 1 Mech, 1 Arm.
Turn 4-6: 24 IPC = 8 INF
Turn 6-10: 20 IPCs 4 Inf 2 Art
Turn 10+ 30 IPC = 5 Tanks
US.
T1-4
Europe. A lot of the strategy depends on the DOW. So the first few turns are quite flexible.
Priority 1 is to build a decent enough fleet and invasion force to secure Gibraltar and Morocco. This will cost the Italians dearly. (11+ per turn). If an early DOW happens the US can just send a single artillery to activate Brazil. Then you have 4 units to land in Gibraltar and Morocco without really spending much. If no DOW happens then the British can do this with the Canadian troops. If the Italians come hard for Gibraltar Morocco and even bring German planes to help, just be patient, build up your fleet a bit more then teach them a lesson.
Priority 2 is to build at least 2 subs per turn to blockade Normandy/Southern France/ Italy/ Yugoslavia/Greece This will cost Axis another 10-15 per turn. The blockade of Italy should be in place by around turn 6 and will consist of 8 Submarines and 2-4 Bombers. (depending on which axis powers control places like Normandy Yugoslavia etc this can reduce Italy to basically nothing)
Approx Total Spend over 5 turns = 100 IPCs
Submarines 6 x 10 = 60
Bombers 2x12 = 24
Destroyers 2 x 8 = 16

By the time the blockade is up and running it will be costing the Axis around 20 IPCs a turn. There is also very little they can do to stop its effect. If Italy tries to build some destroyers they just get jumped every turn by 5 submarines and 2 bombers.
Compare this to other strategies including building a massive invasion force
2 loaded carriers Carriers 72
5 Destroyers for escorts = 40
6 Transports = 42
12 Ground Units = 40
Total =194 IPCs which will hold France for exactly 1 turn before Germany smashes it, and then possibly sinks your fleet with the 5 bombers 5 TAC 5 FTRs and 5 subs they have. The thing is its easy for Germany to counter an invasion force. The resources committed to this path starve other areas of needed war materials.
So that's pretty much it for US European Strategy. Once the Italian Economy is wrecked they wont be sending tanks to fight the Russians. That's 20 IPC less stuff the Russians have to worry about. The US can then switch its bombing targets to Germany. Build 1-2 Bombers a turn for that.
Pacific
Turns 1-3.
In the Pacific there are 2 main strategies.
Priority 1 is to secure the South Pacific. For this I will send Carriers Subs and destroyers to Queensland and see how the Japanese player reacts. Depending on the DOW and where the Jap fleet is, this might include a stopover in the Caroline Islands to secure the Naval Base there. I won't be sending many US troops there. The Anzac forces are enough to get the job done and more easy to replace in the majority of situations. 1st turn fleet build for pacific is always 2 CV Which head south and absorb all the starting fighters such as Hawaii and Philippines if they have survived.
By turn 4-5, my Typical southern Fleet will typically consist of something like 4 Loaded CVs 5 DD 2 SS 2CA 1BB. This is big enough that can stand up to Japanese expansion by teaming up with the Anzac Fleet on defence (say the ANZAC have 3 FTR, 2 SS, 2 DD, 1CA) and is capable of striking from a naval base if the Japanese split their forces. From Queensland this covers all of Indonesia and the Philippines. The only real threat is Japanese land based aircraft. This is where the Russian Siberian strategy ties in. With the Russians and Chinese withdrawing into central Asia the Jap navy will lose its air-cover. It might only happen for 1 turn but that is when the US strikes. Even if they lose 100% of their fleet the Anzac will follow up with as second strike.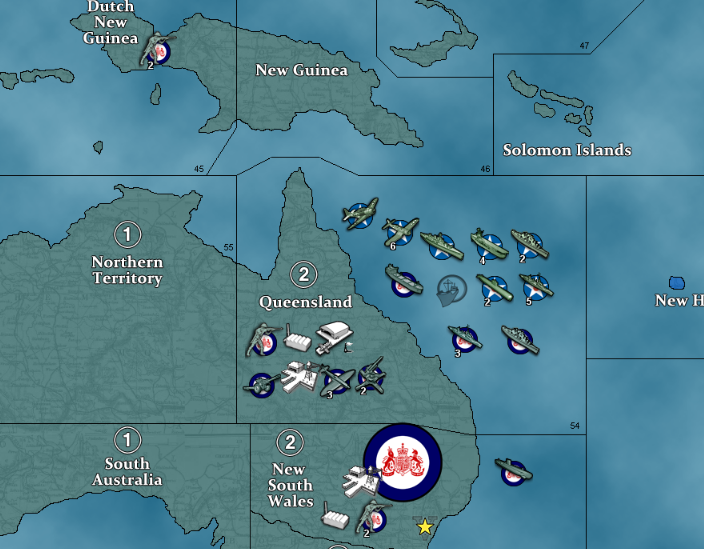 Priority 2 is to threaten to land in Siberia. This forces the Japanese to leave at least half their fleet on defence. The goal is to relieve the pressure on Russia/China by forcing the Japs to send the land based aircraft and ground forces East instead of West. This force will consist of 2 CTF and aim to get into Siberia around turn 5-6. This depends on Japanese Strategy but if they are engaging in the Naval arms race they will run out of infantry quicker and the American can drop the Atlantic Raiding Force (see below) into the Pacific to counter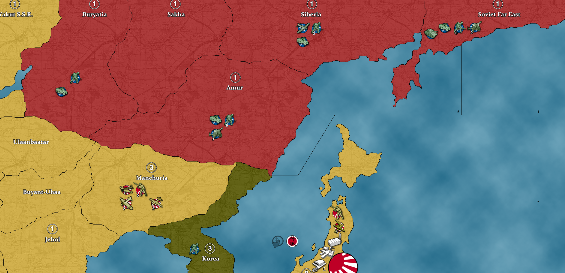 Typical builds breakdown for turns 2-5
30 IPC = Pacific Carrier Task Force (CTF): CV + Sub + (Destroyer or Fighter)
20 IPC = Atlantic Raiding Force 2 Sub + Destroyer (or Bomber)
20 IPC = US Marine Corps 3 inf 1 Art + TRN (if needed)
70
(77 if Brazil and or Philippines)
Once I have 5-6 CTF, I will switch to more ground units and subs (depending on losses).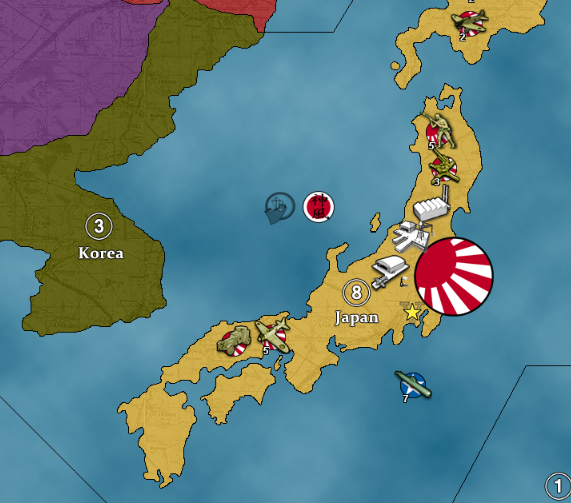 By around turn 7-8 the Italians will be totally shut down and the 20 IPCs will switch from the Atlantic Raiders to cranking out Tanks +Mech to liberate China/Russia. By turn 10, I want to be in or around Buryatia/Korea/Manchuria.
Builds
20 IPC = 2 ARM divisions (2 MECH + 2 ARM)
20 IPC = 2 Inf DIVISIONS (4 INF + 2 ART)
24 IPC = 2 BOMBERS (or fighters to replace losses on CVs)
7- 10 Leftover = extra inf or TRN…
If the Japanese player tries to block the Naval force landing in Siberia, the Norther navy can easily move to other regions of the map including linking up with the Southern Navy for one combined battle.
China.
Retreat slowly while trying to keep Burma road open. Keep most of the troops together around Yunnan/Shensi or Sechwan. Try to attrit as many Japanese infantry singles as you can to teach Japanese player the danger of advancing too quickly. Hopefully you wont take too many losses and will end up with a stack of 20 INF and maybe some Artillery as well and the FTR. Try to get them to Yunnan and link up with 10 or so British coming up from India. This will produce a kill stack that the Japanese will struggle to deal with. You can then start to push back against the Japanese player.
A sneaky tactic is a China/UK 1-2 punch if the British has any Arm + mech infantry and planes. The Chinese can move the kill stack from Yunnan to Kwangsi allowing the British to drive straight into Hong Kong.
It important to coordinate the Chines moves with the British and American.
IF America can keep the Japanese Fleet away from Malaysia / Sumatra, this stops them hitting India on the next turn. This allows Britain to be much more aggressive with builds and attacks. (but not stupidly aggressive) Especially if they still have some of their planes left. The more aggressive UK becomes the less the chance Japan will be Bombing India. If UK is being more aggressive chances are the Burma road will still be open and China will be in a much better position. A 1 to 1 trade for Infantry is a win for the Allies since China can just rebuild them but Japan has to protect factories and Transports if it wants to replace its losses.
So by About turn 7, China should have at least 1 decent kill stack of 20 INF secure in Yunnan and be able to send out raiding parties to anywhere the Japs have left weakly defended.
UK
The main focus of the UK player is to dominate Africa and South Asia. The goal is to have 2- 3 factories up and running by turn 3 in South Africa, Egypt and/or Iraq. Use the available transports to shuttle troops around in order to secure the neutrals in Persia/Iraq and take out the Italians in Somalia/Ethiopia.
Turn 1-2
Option 1
Destruction of the Italian fleet is the best way to stop them dropping more units into Africa. For this I usually try to take out as much as possible on round 1 by taking as many planes as possible from London and also bringing the Indian planes over as well. This will leave Italy without much of a fleet which will make it impossible for them to challenge your expansion in Africa.
Option 2
Another option is to concentrate more on the German threat. This might involve scrambling planes to intercept German turn 1 raids on your fleet and then in turn using your Planes and ships to hunt down surviving German Subs. This option delays the showdown with the Italians but there is little long term cost involved. The British Fleet can sail into the Indian Ocean to protect the transports and live to fight another day.
Africa
Turn 1: I like to hit Iraq with TAC +FTR+ MEC +INF and ART using Indian forces and naval bombardment. I also hit Italian Somalia with an INF ART from Egypt. The planes then land in Syria. We can then activate Iran on the next turn. The planes join the Desert Air Force to help clear Italian troops from Africa or fly east to join the India garrison.
The South African Factory dutifully cranks out 1 Infantry division each turn (2 INF 1 ART = 10 IPCs). The guys normally catch the closes transport to Egypt. Typically you need 3 transports operating along the African coast for maximum efficiency. Alternatively build 1 faster unit like a mech inf and 2 slower units like 1 inf 1 art each turn.
A factory in Iraq or Egypt (or possibly both) goes next. These crank out ground units to clear northern Africa first. Once this is settled we start to move North. UK should be collecting 39 IPC by around turn 5. By the time you are dropping 6 or 9 units a turn into Africa, the Italians will be in full retreat and then you can swing North East to help the Chinese or Northwest to help the Russians, or even rescue the Indian situation.
Consider the following (Normal IPC + Bonus)
Volgograd = 2 + 5 IPC
Caucasus = 2 + 5 IPC
Persia = 2 + 2 IPC
NW Persia = 0 + 2 IPC
Iraq = 2 + 2 IPC
If Germany can hold these areas that is 24 IPC. This is where the game is won or lost. This is what could jump Germany from 50 to 74. Even though it only equals 4 IPC for the Russians and 4 for the Brits, it is a massive boost for the Germans. The forces UK can produce from there factories will eventually be able to build a solid wall from Egypt to India securing these resources.
Northern Front
We will make it a priority to hunt down any German subs then gradually build up a small fleet to send a force to Norway/ Finland. Hopefully the Russians have managed to capture these and we are just reinforcing their gains. Otherwise a more substantial force may be needed. A typical turn might see a standard Marine Corp (3 inf 1 art) dropped onto Norway. A lot of this part of the strategy depends on German AIR/SEA builds. If Germany has a decent Sub force or Airforce sitting in Western Germany it will probably be impossible to sneak past it. These resources would be better spent as part of the Africa force. The Alternative is sinking huge amounts of IPCs int CV and DD to protect the shipping. Easier to Build unsinkable transports in IRAQ and EGYPT.
Typical Build Turns 3-7
SAF 2 Inf 1 Art = 10 (possibly an extra TRN)
Iraq 2 Inf 1 Art = 10
or 1 MEC/1 ART/1 FTR)
3rd Factory Optional
Egy 2 Inf 1 Art = 10
Whatever left to London= 9 or 19
1 Destroyer or 4 Inf 1 TRN
India
The India garrison must keep a careful watch on the Japanese fleet. If it looks like they are grouping for an attack, the Garrison pulls back into India. If they have been chased away by the Americans we can send aid to China.
1. First we must keep the Burma road open.
2. Then we clear the Malaysian Peninsula.
3. Then head to Hong Kong.
This has a snowball effect too because we will be giving the ANZAC and extra 5 and China an extra 6 and India and extra 5 by completing these bonuses. To do this you need a decent kill stack. Its no use sending 3-4 inf. You need 10 or 20 to put a dent in the Japanese airforce.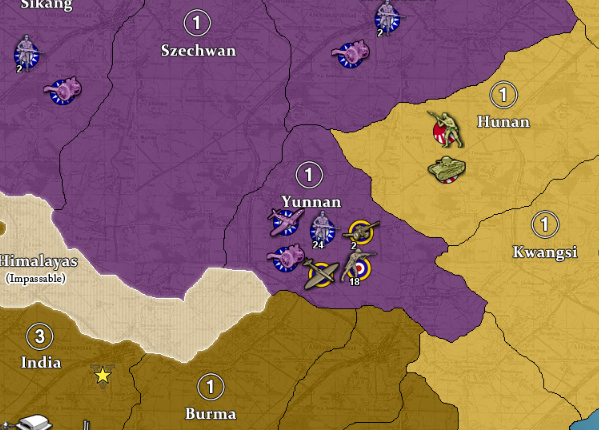 Builds
India 3 inf 1 Art = 13 or whatever works
ANZAC
Priority 1 is to grab New Guinea ASAP. Hopefully you might get a turn or two before Malaysia falls to collect 20 a turn. Use this to build up enough DD +SS+ TRNs +ART and INF to both prevent a Japanese attack and be ready for the fightback.
A typical build might be TRN + Inf + Art for 15 or 2 DD + ART for 20
The goal is just to keep grabbing an Indonesian island here and there to force the Japanese player to become frustrated by having to come back and retake them. Eventually (T3-4) enough US ships arrive that this could turn into a major campaign to grab all 4, Which will put the ANZACs on 31 IPC!.
Use subs and fighters to take out stray Japanese transports.
If your income gets to 28 on a regular basis its time to build a factory in Queensland. This allows 2 INF + 2 ART + 2 TRN each turn. Don't worry about TRN losses. Firstly you have enough IPC to rebuild them every turn. Even with 10 IPC that's 1 inf and 1 TRN and 1 island captured per turn. Secondly its a lot of IPCs you can pick up and up to 20 you are stopping Japan from collecting. Thirdly it might force the Japanese player to split the fleet. This is when the US can strike hardest.

Typical Builds
10 IPC = 2 INF 1 ART or 1 DD or 1 FTR
20 IPC = 2 SS 1 DD
28 IPC = 2TRN 2 INF 2 ART or 2 SS + 2DD
France:
Use your remaining ships to guard the UK fleets where possible. Evacuate your troops in Africa to just Morocco. This is the only place you don't really want to lose. Allowing the Italians to momentarily capture Northern Africa territories allows them to flip when the UK takes them back.
Results.
Typically The Italian Africa income collapses quickly, followed a stack of convoy raiding making their contributions insignificant. (5-10 per turn)
The Germans will be limited to between 40-50 as by the time they are threatening Moscow, UK troops are grinding from the North and South.
The Japs might crush China but will run into a stack of British troops around Caucasus and Yunnan. They will also need a major effort to penetrate India. This would leave the north open to attack from USA and their fleet will be over-tasked, leading to further losses of territory in Indonesia and Philippines.
The Back and forth in Indonesia will hopefully mean Japan must act defensively to protect its gains while also defending against USA landings in the North. Eventually the Japanese will succumb to the combined fleets of USA and ANZAC.
posted in Axis & Allies Global 1940