1914 Battle Report
We played with Gen Con tournament rules (no set up changes), and a couple of House Rules suggested by @Slip-Capone. They were a bid of 12 IPCs to the CPs and a game limit of 6 rounds (instead of 6 hours). You can see a session report by @Slip-Capone here https://www.axisandallies.org/forums/topic/33534/3-newbies-and-a-game-of-1914
The bid was spent on 1 German fighter in Munich and 2 A-H Inf in Trieste.
A1: The A-H player went with the classic buy of 4 Inf 2 Art and 1 Fig. He decided to attack Serbia, Venice, and Tuscany (via Transport). A small force was sent to Trieste while all other reinforcements where sent to Galacia in preparation for an attack on Russia. Battles went well for A-H taking all 3 territories with only heavy casualties in Serbia.
R1: Bought 7 Inf and 1 Art. Mobilized Romania with 1 Inf, left 1 inf in Moscow, Poland, Belarus, and 2 in Sevastopol. Everything else was sent to Ukraine. Also attacked SZ20. Sea battle resulted in all ships on both side being sunk.
G1: Bought 7 Inf 2 Art and 1 Fig. Took territories in Africa, Attacked Belgium, moved everything it could to Alsace and Ruhr, Attacked small British fleet in SZ2, and attacked British fleet in SZ9. He took Belgium easily and took out the fleet in SZ 2, but the big naval battle went poorly with a British BB and Transport surviving.
F1: Bought 8 Inf. Left a token force in Picardy, Paris, and Lorraine. Moved everything else to Burgundy. Attacked German Subs. German subs submerged unscathed.
B1: Bought 1 Cruiser and 7 Inf. Shuffles some guys from India to Egypt and Wales to Brest. Also had some meaningless battles in Africa.
O1: Bought 5 Inf. Mobilized Bulgaria with 6 Inf and 2 Art. Reinforced Trans Jordan and Mesopotamia.
I1: Bought 2 Inf and 2 Art. Mobilized Albania and attacked Tuscany. Left 1 Inf in Piedmont and Rome. Took Tuscany easily.
U1: Bought 3 Trans.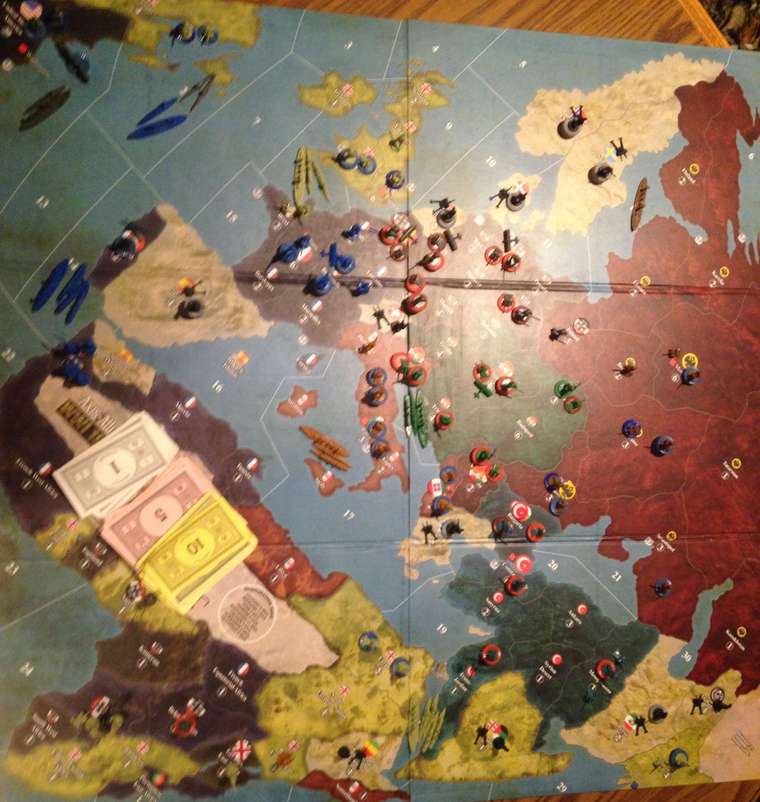 posted in Axis & Allies 1914