Boxcars' AA50 Setup Cards (1st Edition Style) & Battle Board
Since I've cut my A&A teeth back in '84 with 1st edition, it holds a certain sentimental value to me.  Every other version I've purchased since, I've felt that they have "gone cheap" on the included materials.  Anything cardboard is no longer thicker than a cereal box.  And the graphics on the new stuff?!  They tried too hard in my opinion.
Since my group plays AA50 now (or at least we did until we purchased AAE40 & AAP40), I created a set of Setup Cards that capture that 1st edition feel.  I cut them out (10.5" x 3.75") and mount them on foam board.  Works very well.


(This preview .png kinda cuts off the borders of the card…looks better in .pdf format.)
I'm now ready to share this with the A&A.org community.  I hope you guys like them.
AA50 Setup Cards: http://www.mediafire.com/?4y9sz3cv7aiw4xq
I've also reverse-engineered the Battle Board for those new players among us.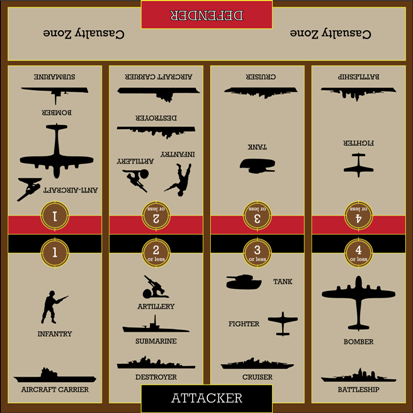 Battle Board: http://www.mediafire.com/?mhe0avbiwusip7o
Enjoy!
-Boxcars
posted in Axis & Allies Anniversary Edition