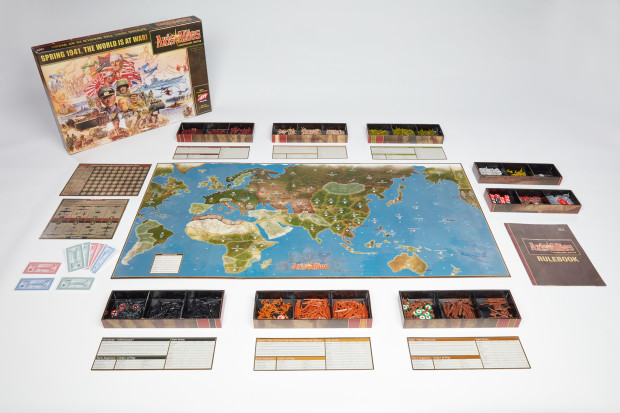 One of the most popular versions of Axis & Allies is making a return to shelves in the Fall of 2017. We have some of the first details about the new release.
We asked the folks at Avalon Hill & Wizards a few questions about the re-release and here is what we have learned so far:
Components are the same number as previously released (over 650)
Rules now include errata and FAQ (Avalon Hill/Wizards worked closely with Larry Harris on this)
MSRP is $100 (same as before)
The map had very minor modifications like the Japanese marker was removed from Manchuria and Kiangsu
The target release date for the new Axis & Allies Anniversary Edition is currently October 6, 2017 but Avalon Hill & Wizards do not have an official ship plan yet. The Amazon.com pre-order lists the shipping date as November 1, 2017.
Links:
We were also provided with the following promotional copy, which conveniently lists out every single piece included with the game! Finally, be sure to check out the photos at the end of the article.
The most celebrated Axis & Allies edition is back!

Upon its release nearly a decade ago, the Axis & Allies Anniversary Edition became an instant classic! Now this deluxe board game designed by Larry Harris, returns with errata and rulebook updates.

With over 650 playing pieces including the largest board ever created for an A&A game, this beloved board game is a must have for the strategy gamer enthusiast.

Ages: 12+

Players: 2-6

6 hours playing time

Components:

The A&A Anniversary edition features over 650 components including the following:

Game Boards:

3 Game Boards
1 Battle Board

Game Charts:

6 National Setup Charts (one for each power)
1 National Production/Research & Development Chart

Markers & Tokens:

120 National Control Markers
22 Damaged Factory Markers
18 Researcher Tokens
18 Victory City Tokens

Storage: 8 Boxes Total

6 Nationality boxes
2 Community Boxes

Dice: 14 Total
Plastic Chips: 80 Total
Paper Money: 90 Bills Total

30 One IPC Bills (green)
30 Five IPC Bills (red)
30 Ten IPC Bills (blue)

Plastic Miniatures: 672 Total
Common Units (Light Gray):

24 Industrial Complexes (factories)
24 AA Guns

USA (Green):

25 Infantry
12 Artillery
12 Tanks
12 Fighter
8 Bomber
4 Battleship
6 Aircraft Carrier
8 Cruiser
10 Destroyer
10 Submarine
10 Transport

United Kingdom (Tan):

25 Infantry
10 Artillery
10 Tanks
12 Fighter
8 Bomber
4 Battleship
4 Aircraft Carrier
8 Cruiser
10 Destroyer
10 Submarine
10 Transport

USSR (Maroon):

25 Infantry
14 Artillery
14 Tanks
12 Fighter
4 Bomber
2 Battleship
2 Aircraft Carrier
4 Cruiser
6 Destroyer
6 Submarine
6 Transport

Germany (Gray):

25 Infantry
12 Artillery
14 Tanks
12 Fighter
6 Bomber
4 Battleship
2 Aircraft Carrier
6 Cruiser
10 Destroyer
12 Submarine
8 Transport

Japan (Orange):

25 Infantry
10 Artillery
8 Tanks
12 Fighter
6 Bomber
6 Battleship
6 Aircraft Carrier
8 Cruiser
10 Destroyer
10 Submarine
10 Transport

Italy (Brown):

20 Infantry
6 Artillery
6 Tanks
6 Fighter
4 Bomber
2 Battleship
2 Aircraft Carrier
2 Cruiser
6 Destroyer
6 Submarine
4 Transport

China (Light Green):