Article and photos by Will Henson.
---
One of the great things about Axis & Allies is how easy it is to add new and exciting pieces to the line up. So in article, I'd like to talk about the best and most exciting places to get war machines to populate your A&A board.
HistoricalBoardGaming.com
Historical Board Gaming (HBG) has one of the largest selection of pieces made specifically for Axis & Allies. In addition to being able to buy almost any piece from any game individually, they have a great selection of A&A compatible pieces you'll find nowhere else.
Grab some of HBG's Russian and German pieces and your Eastern front might look like the photo at the top of this article.
Panzerschiffe.com
Panzerschiffe is one of my favorite places to find ships for Axis and Allies. They have an enormous collection of ships from all nations, you can find, I'd say just about anything here – at very reasonable prices – all in 1/2400 scale. And I don't mean just cruisers and destroyers. I've got all kinds of oddities and painted them up for the game. You can find rules for lots of these on my blog.
Throw down some money and some paint and your game might turn into this…The Americans attempt to protect the Philippines with an Anti-aircraft cruiser, while a transport and an LST (landing ship tank) load forces on the islands while the Rigid Frame Airship loiters overhead scouting for the enemy…. In the mean time Japanese I-400 seaplane carrying submarine, Seaplane carrier Chitose, Battleship-Carrier Hyuga, a Japanese Escort Carrier, the CV Akagi and an LST prepare to attack!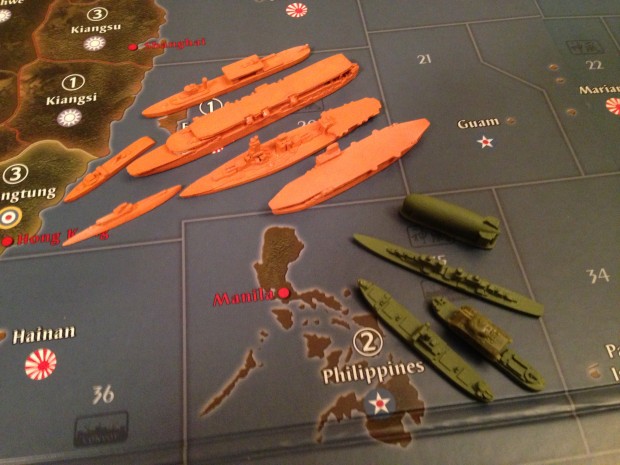 Shapeways.com
Probably some of the beautiful products come from Shapeways.com – This isn't your usual gamers website. This site features products that have been computer designed and are uploaded to the site. When you buy them they are printed on a 3D printer and shipped to you directly. Below are some PBM Mariners and H6K Mavis Flying boats obtained from Shapeways.com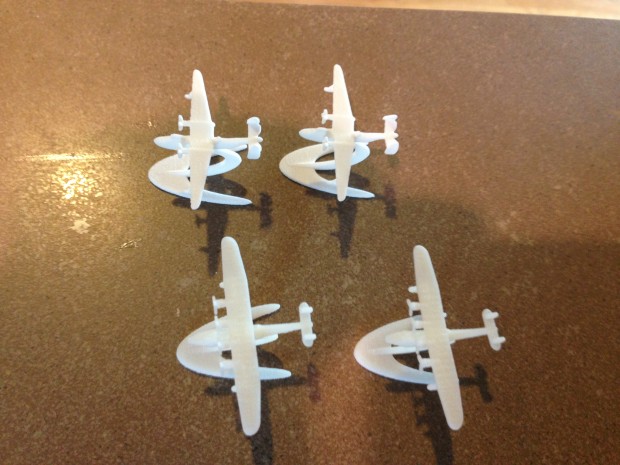 GHQ
GHQ (http://www.ghqmodels.com/) has been around a long time, and it has collections of 1/2400 Miconaut ships and 1/285 armor that can't be beat. It is the place for 1/285 scale armor (the size of an A&A tank) and great for all types of ships – all of which a metal and high quality. Below is the 1/2400 scale Yamato and a Japanese destroyer. You can see a standard A&A battleship – likely intended to be the Yamato – for a size comparison. I've found the 1/2400 capitol ships can get a little big, but the destroyers are about the right size.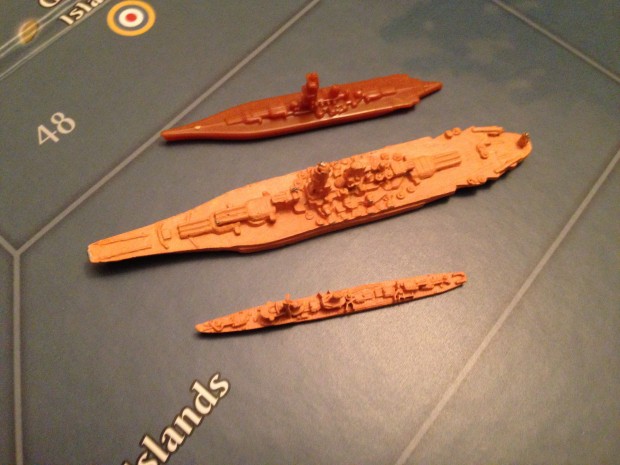 If you like what you see here, and want to up your game with flying boats, seaplane tenders, and more, come visit my blog where you will find hundreds of new pieces and rules for them – http://axisallies1940.blogspot.com