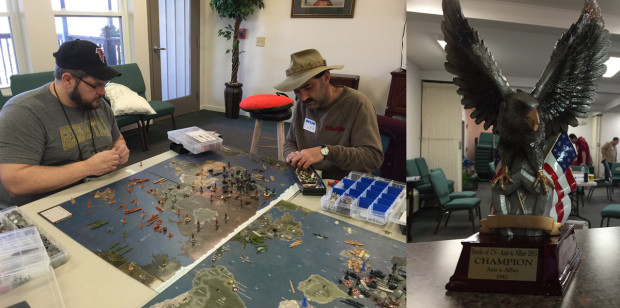 The Nashville Axis & Allies Meetup Group is going back to the beautiful Lakeside Resort for their annual Fall event, the first weekend of October.  They will officially get started Friday morning and wrap up any remaining games on Sunday morning. They invite you to to come for 1, 2, or 3 nights or just for the day on Friday or Saturday.
From the event website:
We will hold 1942 and Global Tournaments.

There will also be plenty of open Axis and Allies gaming available:

War at Sea, Classic, 1914, AA50, Global,[masked]nd Ed.

We welcome players of all experience levels.

Luke has negotiated a special discounted room and cabin rates for our group.

Rates will be posted soon. There is a $5 entry fee to help cover Meetup costs.

All rooms and cabins include kitchens and the conference room includes a galley. Please remember to bring food and drinks since the closest restaurant is a 15 minute drive.

We hope to see you there!
When: October 2 – 4, 2015
Where: Lakeside Resort, 358 Relax Drive, Smithville, TN
Cost: $5
Website: Axis & Allies Battle of Lakeside II