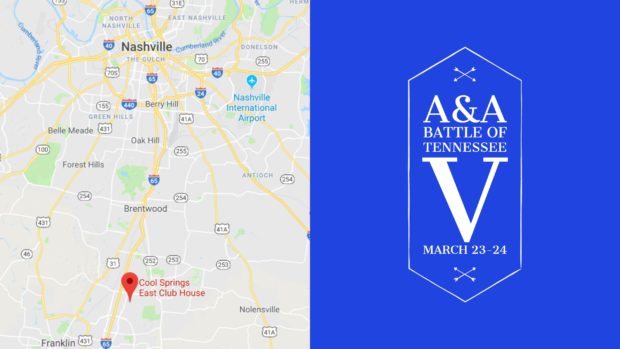 The Nashville Axis & Allies Meetup group is holding one of their annual events for the 5th straight year: Axis & Allies Battle of Tennessee V. It will be held just outside of Nashville in Franklin, TN on March 23-24, 2018.
Please visit the Battle of Tennessee V event page to sign up.
Here are some details from the event website:
Please join us for the 5th annual Battle of Tennessee AXIS AND ALLIES Event.

TIME: Friday, March 23, 2018 (9am Central) and Saturday, March 24th, 2018 (9PM Central). PLACE: Cool Springs East Club House is in the heart of Cool Springs, 15 minutes south of Nashville, TN. There are a number of local hotels nearby in addition to numerous restaurants, everything from Starbucks and McDonalds to the Cheesecake Factory and other upscale dining.

GAMES: We will play Axis and Allies Global and Axis and Allies Anniversary Edition. **Not to be missed! – We wind down the evenings with a game of Secret Hitler!***

We will also have tables for side games of all A&A variants, including Classic, AA 1942, WWI 1914, War at Sea Naval Minis, etc. Other games are welcome as well! We have a few Scythe players coming too! The attendee fee is $20.00 for the weekend or $10 for a day. You will need to book your own hotel reservations. We hope to see you there!