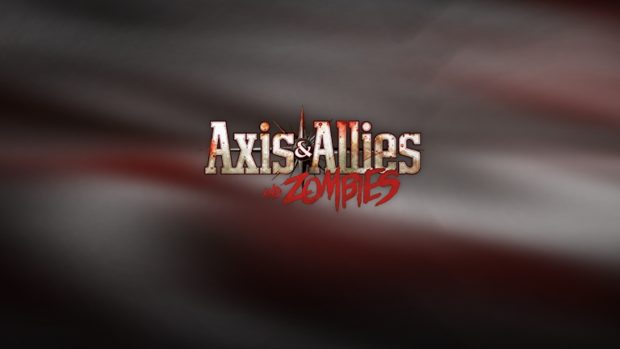 After we learned about Axis & Allies and Zombies, we reached out to Wizards of the Coast to see if we could get a little more information. We sent over a few questions, which were answered below by Scott Van Essen, AAZ lead game designer, and Shelly Mazzanoble, Avalon Hill Brand Manager. The answers not only give a peak into Axis & Allies and Zombies but also that we should expect more from Axis & Allies in the coming years.
First an introduction of Scott Van Essen:
Scott Van Essen is the lead designer of Axis & Allies & Zombies. He's been designing games such as Duel Masters, Kaijudo, and the newly announced Transformers trading card game for years and says designing an Axis & Allies game is a dream come true as he's been a fan his entire adult life, playing close to 500 games of Axis & Allies (not counting all those playtest games) since he began in 1987 with Classic edition. He fell in love with the game immediately and has played (and owns a copy of) every version and expansion (except the Nova edition.) Needless to say, he's a part of the A&A community.
Who are the game designers? 
The design team is comprised of award-winning game designers, Mike Mearls (Betrayal at Baldur's Gate, Dungeon & Dragons 5th Edition), Scott Van Essen (Magic: The Gathering, Transformers TCG, Duel Masters TCG), Ryan Miller (Magic: The Gathering, Duel Masters TCG), and Mons Johnson (Magic: The Gathering, Duel Masters TCG, Kaijudo TCG).
Generally speaking, what does the map look like? Is it a world map? A specific theater like Europe or Pacific? Or a more specific battlefield like D-Day?
The map will be a world map.
How are the Zombies played? Specifically are they a non-playing force or does one player control the Zombie faction?
The zombies are generated by the game, no player is their "controller."
Is it Axis vs. Allies vs. Zombies (every faction for themselves)? Or is it Axis plus the Allies versus the Zombies?
It is Axis vs Allies. The Zombies have no objective, but they are an elemental force that will overrun the world if left unchecked.
Game play is listed as 60-180 minutes. What was the longest game during playtesting?
Playtest game durations are not representative of an actual game due to shortcuts, do-overs, spot changes, and extended discussions. Our goal is to make a game that is playable in a single session and that experienced players can complete in under three hours.
The announcement mentioned "streamlined gameplay." Can you elaborate on that?
One of our goals was to make Axis & Allies accessible to new players while maintaining the depth and strategy existing players have come to appreciate. We did this by keeping the play time fast, and by removing some rules for which the costs in complexity and learning the game outweighed their benefits in fun, balance, and simulation.
We are also including an introductory scenario to help new players acclimate to the basic mechanics and jump into the action quickly.
How many pieces will be included in the game?
We're still in development so it's a bit too soon to confirm all of the components, but there will for sure be 3 different zombie figures that are pretty incredible.
What are the dimension of the map?
The map is still in design so the dimensions are not final.
Will there be any dramatic rules changes?
Overall we wanted to maintain the spirit of Axis & Allies and give existing players a fun, new variant. Experienced players should be able to read the quick-start rules and start playing in a matter of minutes.
Our goal from the beginning was to make sure that this was an Axis & Allies game first. The Zombies add a new element which organically pushes the game in new directions without detracting from the core gameplay that has made Axis & Allies an enduring classic.
Do the rules maintain the spirit of Axis & Allies area control?
Yes, they do.
What role will sea units play? Is there any way for Zombies to cross bodies of Water?
Zombies can appear in any land territory. Sea units become much more important because it's easier to travel over the oceans than through zombie-infested territory.
Besides "chainsaw tanks" and "zombie mind control rays" are there other new weapons and abilities?
Yes, our top zombie researchers are constantly developing new zombie-fighting techniques. However, they do not wish to share additional information at this time—for obvious reasons.
Will there be nuclear weapons?
Everyone asks this! No, there won't be any nuclear weapons in the game. Feels weird to apologize for a lack of nuclear weapons, but really chainsaw tanks are so much cooler.
What is the time period of the game? Pre-WWII? During WWII? Post WWII? Or some other time?
The main game begins in 1941, with Germany close to the peak of Operation Barbarossa and Japan poised to attack Pearl Harbor. The intro scenario (mentioned above) roughly recreates the European theater in the time period from 1939 to 1941 where Germany captured the majority of Europe.
Are there cards involved in game play?
Indeed there are! Cards play an integral role into how zombies are spawned. In addition, there will be rules and a separate deck of cards you can use as an expansion for your Axis & Allies 1942 games.
After AAZ, should we expect to see more Axis & Allies games in the future? Will they be serious, "zany," or a combination?
In case it wasn't clear, WotC president, Chris Cocks is a huge fan of Axis & Allies. (He plays in a couple of regular game around the office) so if he has anything to say about it—yes!
I think you'll see a combination of both. Axis & Allies is an iconic brand that's resonated with strategic gamers and history buffs for nearly 40 years. The game has already touched millions of people, but we know there are opportunities to introduce it to a whole new fan base and are excited about what the future is going to bring.
What will be the release date?
Fall 2018 (We'll have a more specific date in April.)
Where will the game be availablee?
Axis & Allies & Zombies should be available at hobby stores, mass market, and online retailers where Wizards of the Coast products are sold.
What will be the MSRP?
The MSRP for AAZ will be between $40-$50.
Update 12:40pm: we got a few more details about the design team:
Ryan Miller is a former WotC employee and now a freelance game designer. You can find out more about him here.

Mons Johnson has a lot more credits than listed, including a lot of work on Axis & Allies. He was a developer for the Axis & Allies miniatures games and has consulted on the Axis & Allies Anniversary Edition, Guadalcanal, AA Europe, AA Pacific, AA 1914. He has also worked on board games like Betrayal at House on the Hill, Vegas Showdown, and Tyrants of the Underdark.

In addition to Betrayal at Baldur's Gate, Mike Mearls designed the basic system for the D&D Adventure System board games. (He's also a gigantic zombie fan.)