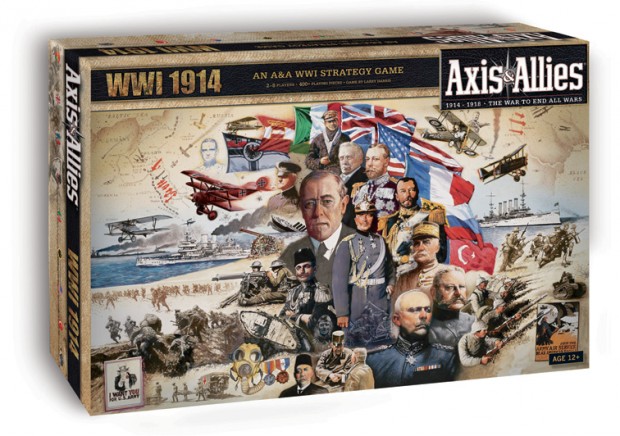 The latest installment of Axis & Allies is a World War I based game starting in 1914 and will be released on March 19, 2013. Thanks to Wizards of the Coast, Axis & Allies .org currently has a copy of the rulebook and will have a preview copy of the game shortly.
This game has mechanics familiar to other Axis & Allies games but a few changes have been made to make this a unique experience that will some of the aspects of the First World War. The official Wizards of the Coast solicitation flyer explains the game as follows:
 A brand new era for Axis & Allies®, the First World War!

For the first time ever players can experience Axis & Allies in the setting of World War I. The familiar, time-tested A&A rules have been adapted to let players control the armies of 1914. Fans of Axis & Allies will want to pick up this title to enjoy a classic favorite in a whole new way.

New major powers, alliances, maps, and unit sculpts!

WWI 1914 gives players command of the mighty armies of eight major powers. The Central Powers of Germany, the Austro-Hungarian Empire, and the Ottoman Empire are aligned against the great alliance of France, the British Empire, the Russian Empire, Italy and the United States on a new game board extending from Washington, DC to Bombay, India. 22 all-new unit sculpts are included, and enfranchised players will be pleased to see WWI units, like biplanes, in Axis & Allies for the first time.
Click here to download the original flyer: Axis and Allies WWI 1914 Sales Flyer
Game Components
According to the rulebook Axis & Allies WWI 1914 includes the following components:
2 game board (we're guessing that these are two pieces that you put together)
8 National Storage Boxes
1 General Storage Box
1 Battle Board (the battle board is actually useful in this version)
400 plastic miniatures, 50 for each major power (N.B.: each number below is divisible by 8)

96 Infantry
80 Artillery
32 Tanks
32 fighters
32 Battleships
48 Cruisers
32 submarines
48 transports

60 Light Red Chips
20 Dark Red Chips
60 Light Blue Chips
20 Dark Blue Chips
36 Dice
120 National Control Markers (15 for Each Power)
The rule book includes a "photograph" (actually a 3D rendering) of a game board, which has been set up. According to this rendering and later in the rule book each of the 8 major powers have a unique Infantry sculpt. In the rendering, however, the rest of the units all appear to share the same sculpt for each type of unit.
Click on the image below to see a much larger version.