Author Archive: James Campbell
The Field Marshal Gaming Convention, now in its 5th year, is held in Oshawa, Ontario. It's a great opportunity to get away and enjoy your favorite games with other gaming enthusiasts including many from right here on the Axis and Allies.org forums!
Written by Der Kuenstler on 02-12-2013 at Axis and Allies.org, assembled and edited by Rorschach of I Will Never Grow Up Gaming So you've got some great new House Rules (in your own view, anyway) for Axis and Allies and you'd like others to cooperate and play along. This is not always easy, but here are […]
This is a resource for anyone interested in painting their own Axis and Allies board game pieces or for anyone who has any questions regarding painting of plastic miniatures in general.
Any Axis and Allies game that contains a coalition(s) of countries will require their players to cooperate in order to achieve the goal of their side winning the game. The objective of this article is to explain turn-based game mechanics to in order to improve teamwork while playing most of the Axis & Allies games.
The Field Marshal Gaming Convention is an annual celebration of tabletop gaming held in Oshawa, Ontario every September and now in its 4th year.
So you've been invited to play a game of Axis and Allies 1940 Global with a few of your friends, however, there's just one problem; you don't know a thing about it! Well don't worry, we're going get you up to speed so you can feel comfortable around the gaming table. Perhaps after reading this, you will become compelled to download the rule book !
Bunnies P. Wrath has written this guide for intermediate to advanced players of the Spring 1942 edition of Axis and Allies, released in 2009.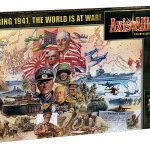 This guide includes the basic strategies for Axis and Allies in 1942, along with separate advice for every nation, and some common openings.
Welcome Comrade! Here you will find a guide to understand the Soviet Union (USSR)'s position and role in the game.
Young Grasshopper helps answer the question "What is the socially acceptable level of competitive behavior allowed if it's just a game?"
In this article Christopher Yorke tells us how to engage with Axis & Allies as a game in the fullest way possible via the conduct combat phase.
In this article Christopher Yorke teaches us that the dice speak and to keep a good poker face during the conduct combat phase.
Check out this great guide written by Christopher Yorke on selecting casualties during your Axis & Allies games.