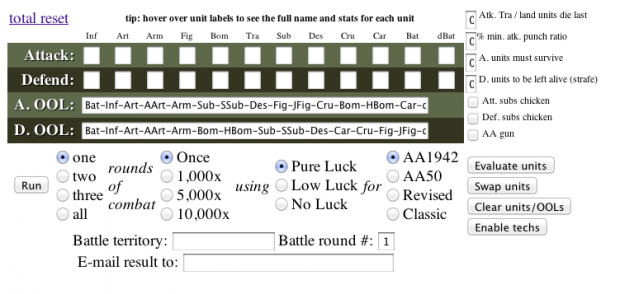 Rumor has is that the original home of AACalc will soon be going away and to prevent the total loss of this great tool, we are now hosting it here on Axis and Allies.org. You can access AACalc here: http://www.axisandallies.org/aacalc/
If you're not familiar with AACalc, it is a fully-featured Axis & Allies battle calculator. It was originally written and maintained by Dan Rempel on http://aacalc.frrood.net and has also been updated by contributors such as Aaron Kreider, Greg Massaro, and myself.  As you can see from the screenshot, the options are numerous and it can be really helpful during your play-by-email (PBEM), play-by-forums (PBF) games, or for planning your strategies. All you do is enter the units in the battle, chose how many rounds of combat, the number of iterations to run the simulation, and the game you're playing. The output gives you the possible results of the battle and percentages for each likelihood.
If you're a programmer, you might be interested to know that AACalc is an open source project hosted on GitHub. The original project had not been updated in over a year so I forked the original and I will be actively maintaining the project. Fork AACalc on GitHub if you're interested in contributing.
Finally, because the project is hosted on GitHub you can also file bug reports or feature requests for AACalc on GitHub. If you want to discuss your ideas before submitting them, you can discuss AACalc on the forums.