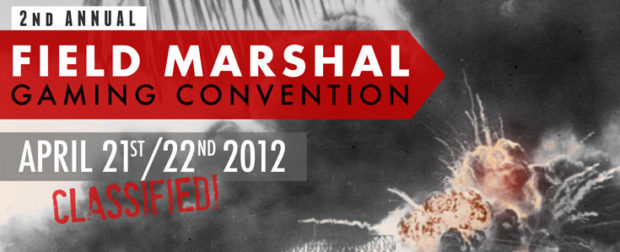 On April 21 and 22, 2012, official Axis & Allies.org sponsor, Field Marshal Games will hold their 2nd Annual Field Marshal Gaming Convention just outside of Toronto in Oshawa, Ontario, Canada. I'm am also excited to announce that I, David Jensen, founder of Axis & Allies will be in attendance this year. Additionally, there will be 12 or more members of the Axis and Allies.org forums community in attendance. If you haven't made plans, there isn't much time but you should definitely come to this event.
If you are not able to make it, then follow along on Twitter. We will be broadcasting over the Twittersphere using hashtag #FMGC12 during the event.
Discuss more details about FMGC 2012 in the forums.
Jeremy from Field Marshal Games provided the following information about the convention.
Official Board Sponsor FIELD MARSHAL GAMES is having the Second Annual FMGC (Field Marshal Gaming Convention) this year on April 21st – 22nd.

This event is growing fast as Axis & Allies players and WW2 miniature enthusiasts are traveling from across North America to attend.  Many members of the axisandallies.org community are meeting at FMGC this year to challenge each other and enjoy the great games at the heart of this Hobby.

FMGC is also popular amongst WW2 Miniatures players.  This year there will be both Axis & Allies Miniatures, and Rules of Engagement being played on custom landscapes and battlefields.

To add to the flavour of the event, FMGC is being held in the original RCAF 420 Wing Clubhouse.  The home of the RAF 420 Bomber Wing of 1943.  There will also be a LIVE demonstration of WW2 fighting vehicles for the attendees featuring a fully operational Sherman M4 Battle Tank, Bren Carrier, M24 Chaffee light tank and more!

For full event details and registration please visit: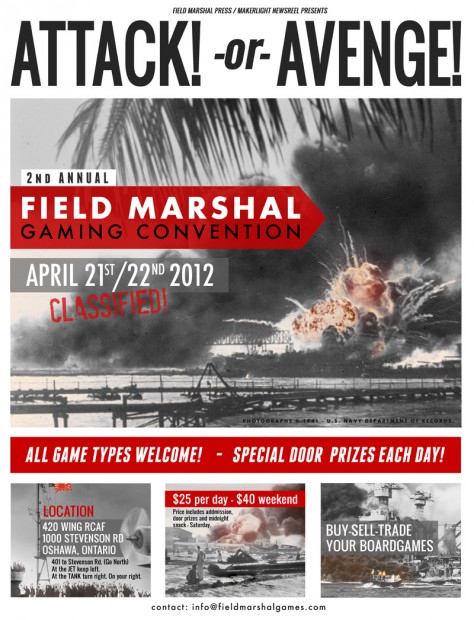 Category: Events
David Jensen has been operating Axis and Allies.org since 2000 and writing about Axis & Allies since 1997.