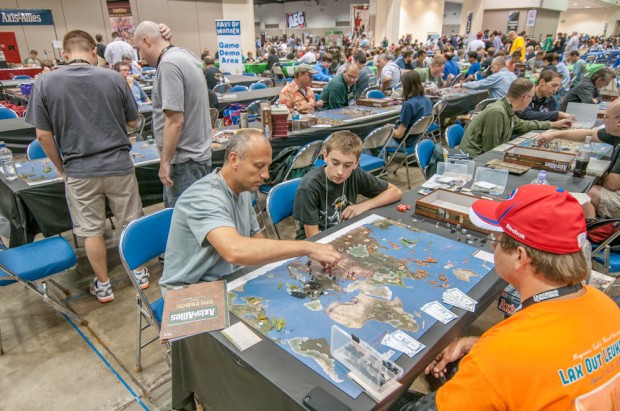 Each year Axis & Allies players from around the country gather at various conventions and conference to compete or just play for fun. This is your 2013 guide to these events.
As it turns out, a majority of these events are organized by the faithful Axis & Allies game master, Greg Smorey, who keeps the information about all of his events on The Smorey Swamp.
Spring Gathering XI – April
As of writing, if you're within driving distance, it's not not too late to attend this event. If you have to fly, it's also not too late but could be costly. This event, run by Greg Smorey, features 1.5 days of Axis & Allies board games and miniatures games. I will be in attendance these year for my first time ever and I'm looking forward to it.
Origins Game Fair – June
Origins is one of the larger game conventions held on a yearly basis. Although it is not specifically and Axis & Allies convention, there is a strong A&A contingent and all of the games are organized and supported by Greg Smorey.
World Boardgaming Championships – July
Do you want to prove to the world that you're the best Axis & Allies player, then the World Boardgaming Championships might be the event for you. This event is run by the Boardgame Players Association and has included Axis & Allies as an event in past years including 2012.
Gen Con – August
GenCon is the largest gaming convention in the United States and every year it gets larger and larger. Although WBC is a competitive event, GenCon Indy brings together some of the best Axis & Allies players. You can compete or play casual, learn new games or play the classics. It's not just Axis & Allies that makes GenCon appealing, there are tons of events and exhibits that appeal to all gamers. Take a look at a few photos from Gen Con 2012. Greg Smorey does a fantastic job of organizing the events at Gen Con and has been for many years.
I will be attending Gen Con this year.
Field Marshal Gaming Convention – September
This is the third year of this convention and one of the great aspects of this convention is the venue: the 420 Wing, Royal Canadian Air Force Association. Not only are you playing WWII games surrounded by military memorabilia hanging on the walls (much of which is from WWII), there is also a military museum, and, this year, there will be tank rides. This event is run by one of the long time sponsors of Axis & Allies .org, Field Marshal Games.
I plan to attend the Field Marshal Gaming Convention this year.