RE: War and Peace (2012)
The kids are doing great… I actually got them "into Axis and Allies" by getting them to play War and Peace and the original 1980s A&A, which I have put a lot of time and effort into sprucing up (my old copy was a mess)… I also got Anniversary and am working on multiple projects on Anniversary… got a map printed, having a custom A&A dice tray made, and am repainting units, along with my other customizations.
On War and Peace, I did a lot of work on it as well… new storage trays, new leaders, and this map project… i'm attaching (a shrunk-down) version of my printable map… my original file is much larger and in PNG format. The game map for W&P is a bit of a mess… the box it comes in is much smaller than a 1941/42 A&A box, so the cardboard map is folded down to 8 separate sections with a lot of creases and "flappy parts" for a lack of a better term, that after having gotten used to printed flat vinyl A&A maps, I just have a hard time being happy with this 8-part floppy hot mess. I scanned all 8 pieces and have been stitching them together in a paint program… from the sample below you can see i've pretty much eliminated the board crease completely from France… i'm still working on other parts of the map… I eventually intend to have the map printed on a custom game mat… I already had one done in this manner for King of Tokyo, so it will work well on War and Peace… i love the canvas and rubber map, having it done at this shop:
https://www.inkedgaming.com/collections/custom/products/two-player-custom-playmat
Anyways, here's the pics of my in-work map project (shrunk down) and my Napoleonic miniatures… oh, they are Reeves 54mm lead toy soldiers… they have some weight to them, but they are designed for play and (obviously) stand-out on the map when leading forces… as with many rare things, I found them on E-Bay… they ain't at my local Walmart, that's for sure. I spent a lot of time searching for the right pieces to lead my W&P armies. My "back-up" plan was some pre-painted plastic Napoleonic toy soldiers I found… they weren't "technically" Napoleon and Wellington but they would have passed as leaders and looked a lot better than the tiny plastic cardboard chits that come with the game (lame).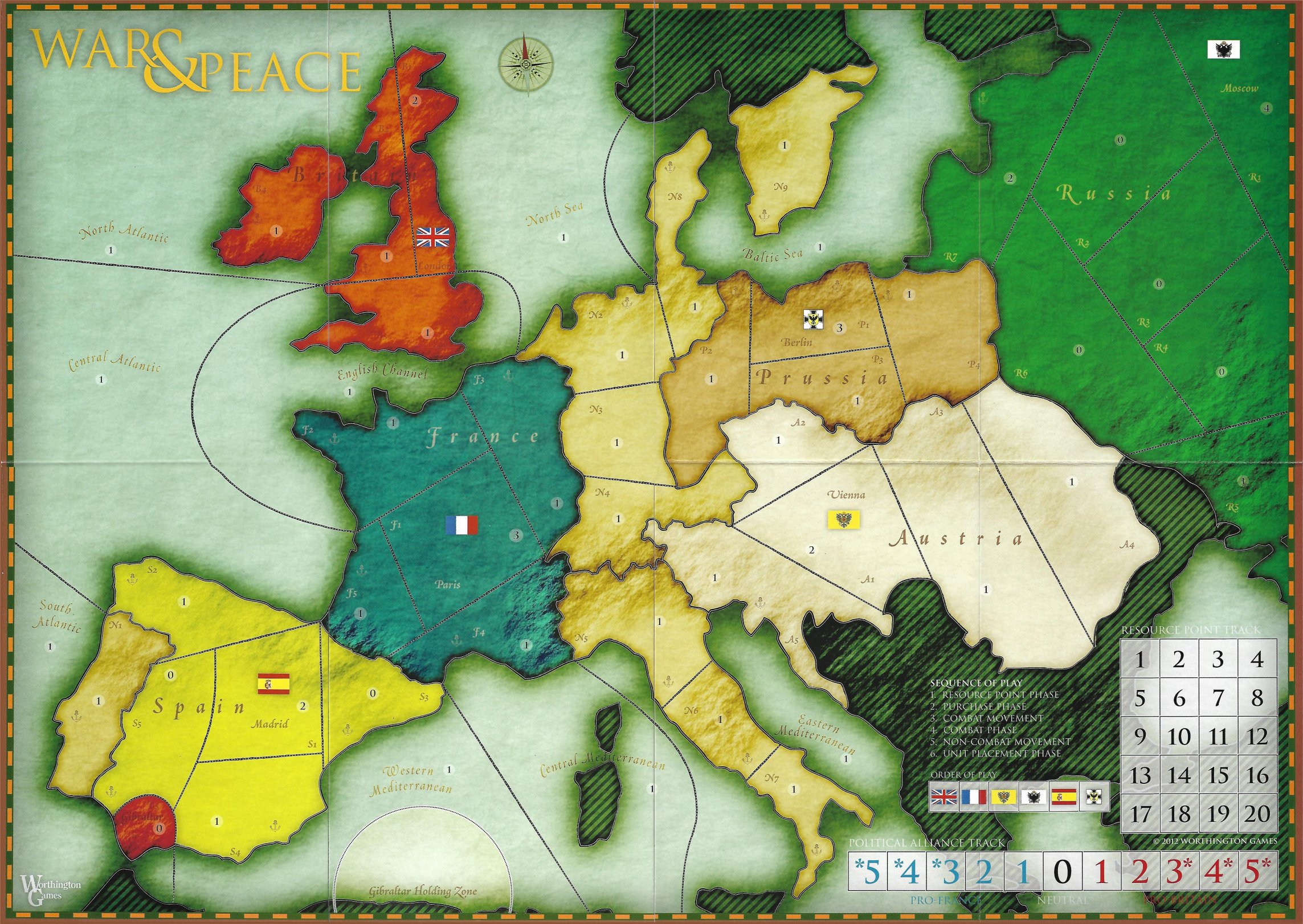 posted in Other Games