RE: WW2 Path to Victory - Strategies
Here's a Path to Victory map that's been edited to show the maximum historical extent of Axis expansion – if the Axis ever controlled a territory at some point during the war, I gave it to them, and if the Allies ever failed to control a territory, I took it away from them. Thus, Iraq is Axis because there was a very brief pro-Axis coup; French Central Africa is neutral because it took a little while for the Free French to liberate it. Some territories are judgment calls – you could argue that the Germans took the territory represented by Vologda, near Leningrad, or that the Japanese never took the territory represented by Kweichow, but these are 1-IPC swings that would not greatly affect my conclusion.
The interesting thing about editing this map is that Axis and Allied income are essentially tied. The Axis are collecting 134 IPCs per turn before national objectives, and the Allies are collecting 135 IPCs per turn before NOs. Assuming everyone is at war, the Atlantic Wall is duly garrisoned, there are enough German subs in the water to annoy the British, but not enough to interrupt Russian Lend-Lease, then I count 26 IPCs in Axis national objectives, and 27 IPCs in Allied national objectives. In other words, at the maximum extent of Axis expansion, the Allies were up by a grand total of $2. If the Axis take, e.g., Southern Caucasus or Midway, then the Axis are instead up by about $5. If the Allies liberate British Somaliland or the Solomon Islands, then the Allies are up by about $5.
This is dramatic, but not especially historical – in real life, when the Axis were at their maximum expansion, the Allies were still out-producing them at least 2:1. It's an interesting game design question whether it is more elegant to give the Axis a fighting chance by making the territories near their capitals worth more money (as Path to Victory seems to do), or by giving the Axis so many starting units that they are able to expand far beyond their historical borders (as, e.g., Anniversary Edition seems to do).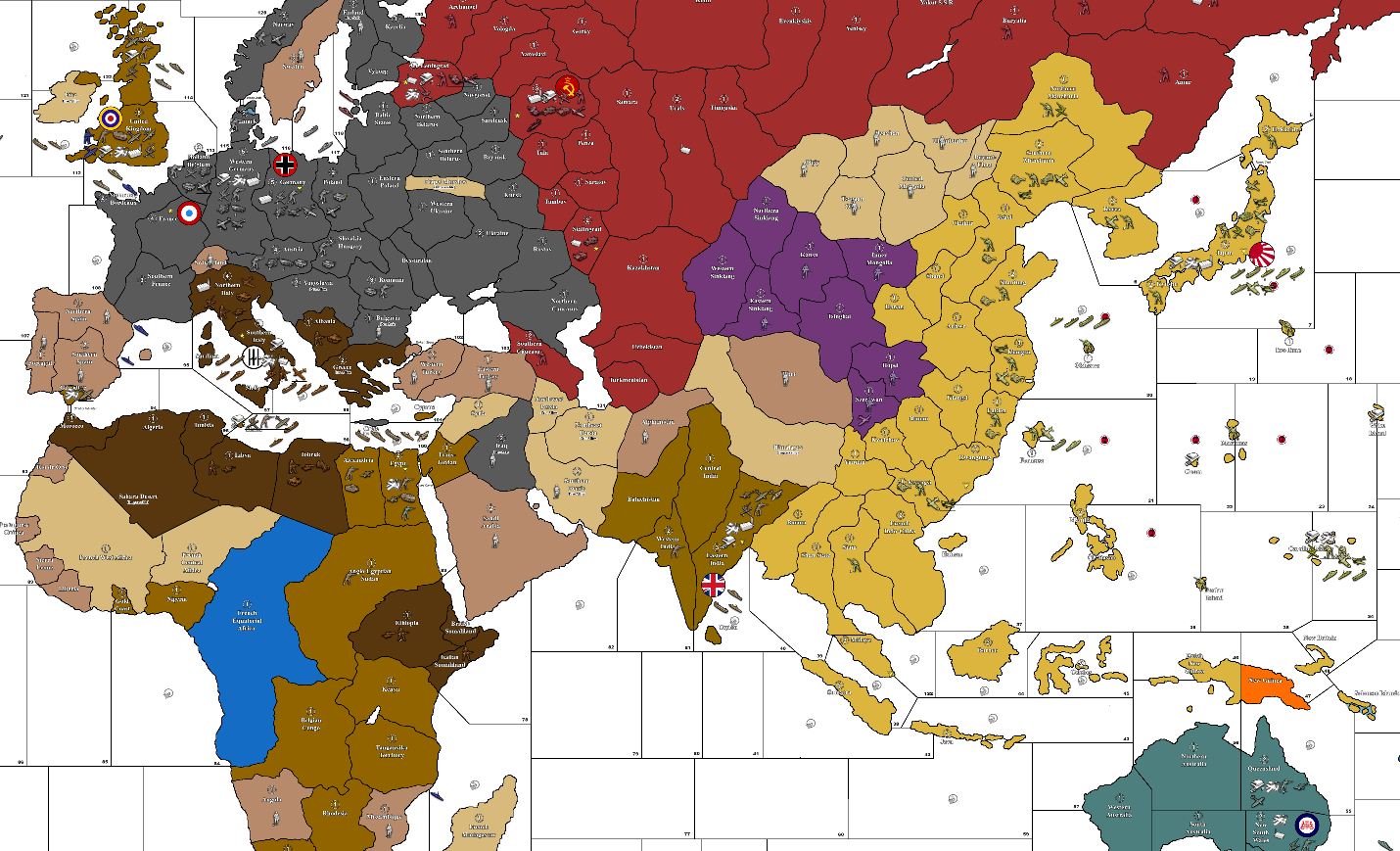 i
posted in Other Axis & Allies Variants