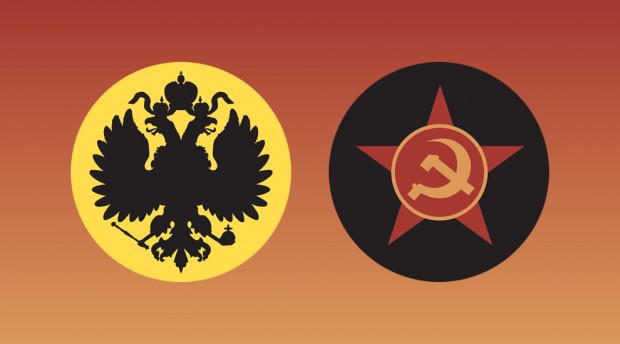 In 1917, during the second half of World War I, Russia erupted into the Bolshevik Revolution and the new Axis & Allies WWI 1914 game includes optional rules to represent this historical event.
The revolution occurs at the end of any Russian turn when all of the following are true:
Three or more territories adjacent to Moscow are controlled by the Central Powers.
At least one other original Russian territory is controlled by the Central Powers or contested.
Moscow is controlled by Russia or contested.
It is interesting to note that it is possible to play with these optional rules and still capture Moscow without igniting the revolution.
When the revolution occurs, Russia become a republic and signs an armistice with the Central Powers. This removes Russia from the war:
Russia will no longer have a turn.
All Russian units outside of original Russian territories or Russian-controlled territories are immediately removed from the board.
The Central Powers may no longer attack Russian units.
The Central Powers may no longer move into [uncontested] Russian controlled territories.
Central Powers forces can move into or out of territories contested between them and Russia at any time (but Russia does not fight).
Russian units will not participate in any battles.
Rules restricting land unit movement out of contested territories no longer apply to Russian territories as long as the Central Powers keep at least one infantry in the contested territory.
Central Powers continue to collect income for any Russian territories they control.
Central Powers do not collect income from contested territories.
Basically, Russian units no longer fight, Central Powers may not enter uncontested Russian controlled territories, and Central Powers are free to move in and out of Russian-contested territories, which were contested at the advent of the revolution.
The rulebook recommend that when using these The Russian Revolution rules, the game should be played with seven players, one controlling both USA and Russia. This recommendation seem perfect because as the USA enters the war Russia is exiting the war.
More about Axis & Allies WWI 1914
Category: Axis & Allies 1914, News
David Jensen has been operating Axis and Allies.org since 2000 and writing about Axis & Allies since 1997.